Description
Specs
Faq
Reviews
Item No.
NF880-908
NF880-910
Red Laser
R2000mw/638nm
R3000mw/638nm
Green Laser
G2000mw/525nm
G3000mw/525nm
Blue Laser
B4000nw/450nm
B4000nw/450nm
Scanning system
30KPPS
30KPPS
Newfeel NF880 laser light
The Newfeel NF880 laser light music is a full-color RGB laser lights system, designed for large indoor venues, medium to large scale outdoor shows, and clients who need impactful aerial beam effects, with the ability to also produce laser graphics, logos, and text.
It is suitable for venues up to 4,500 people incapacity, and also provides an affordable option for outdoor laser shows and larger size clubs.
Intelligent Technology
The unique classic and graceful curves are used, and the appearance is reduced as much as possible to match the modern and popular features of small size and large functions.
It is equipped with SD card program playback function, ILDA intelligent switching function, and double light-locking laser safety protection system.
SD card to store and play massive programs
Unique cutting-edge technology, using smart phone chip ARM solution, with external storage SD card, with high memory capacity, fast data transfer rate, great mobile flexibility and good security, allowing you to unleash your imagination.
Manually adjust the pattern size
Through the X-axis and Y-axis pattern size adjustment knobs of the operation panel, the pattern size can be adjusted to meet the different pattern sizes in different applications.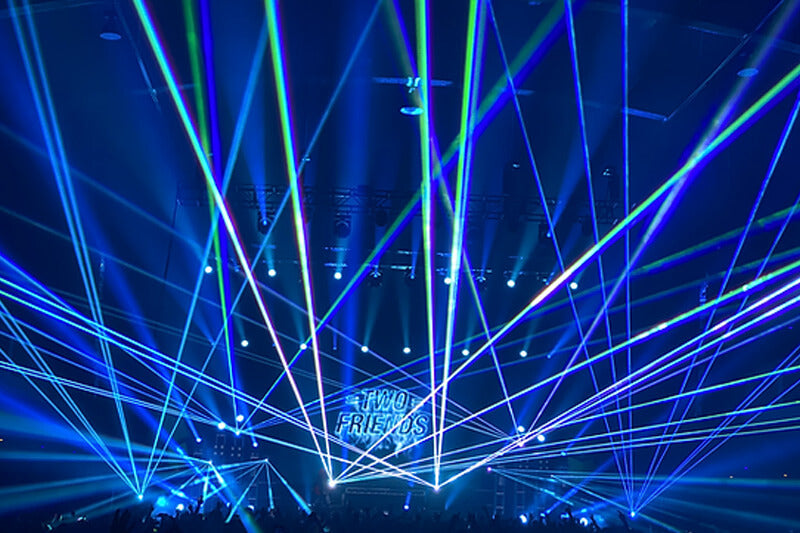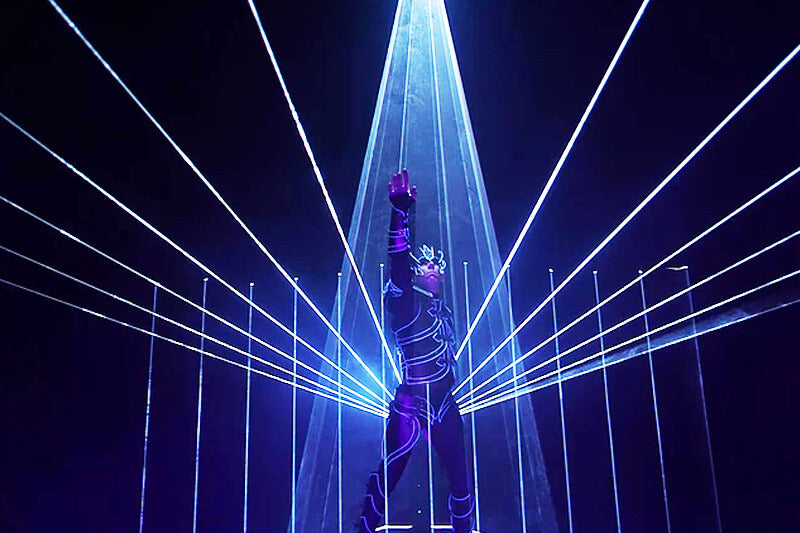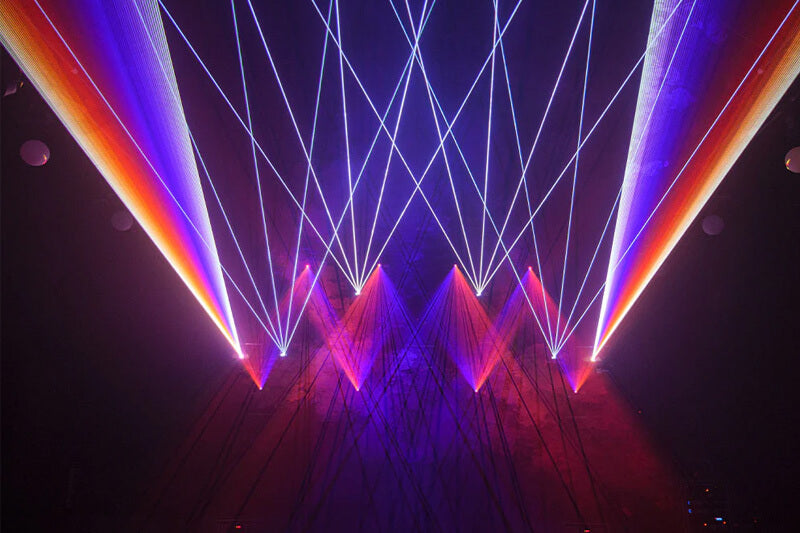 Applications
The NF880 laser light effect is perfect for DJs, small to large nightclubs and entertainment venues, and hobbyists, who need an impactful and easy-to-use laser system, at an economical price point.
ILDA signal intelligent switching
After the device is connected to the ILDA signal line, it can automatically determine whether the ILDA controller (card) is connected. After it is judged that it is connected, it can automatically switch to the ILDA mode and accept the control of the ILDA controller (card).
And set up the ILDA information output port to amplify the input signal, so that the connection can be extended infinitely.
Mechanical Laser Safety Knife
When the pattern output is less than ±1.5, the laser light path can be cut off within 0.1 seconds. Make sure that no single laser spot appears. It is equipped with a 1T high-speed computing intelligent single-chip microcomputer chip, which can intelligently judge the safety status of the laser beam through complex multi-dimensional operation and comparison.
When the pattern output is less than ±1.5°, the laser excitation signal will be intelligently turned off. Double protection, double security.
Free color setting
All single laser color, two laser colors, and multiple laser colors can be selected through the touch button.
Isolation Principle Dustproof Design
Professional-grade optical system dust-proof process, long-term use without regular cleaning of the optical system.
‍LCD liquid crystal human-machine interface
One machine with multiple modes, with: 2 sets of voice control, 2 sets of automatic, DMX512 control, ILDA playback, master-slave online, and can independently set functions such as mirroring and voice control sensitivity.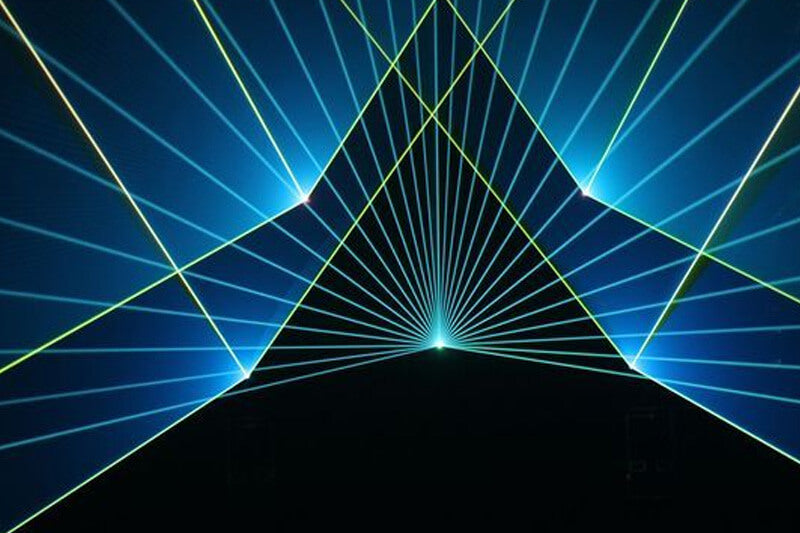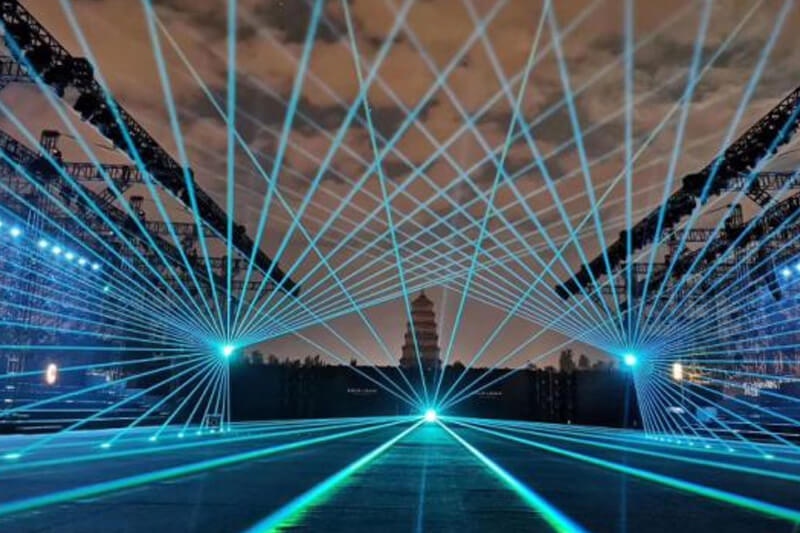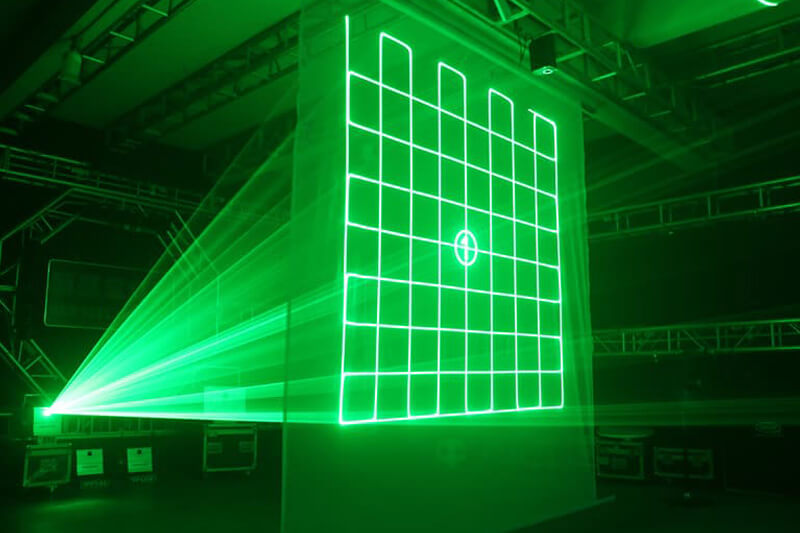 Power supply
AC90-240V,50-60Hz±10%
Laser modulated signal
analog or TTL modulation
Beam diameter at the aperture
max 6mm
Beam divergence
max 1.6mrad
Laser wavelength
red light 638±5nm, green light 525±5nm, blue light 450±5nm
Galvanometer scanning system
30KPPS high-speed galvanometer
Scanning angle of galvanometer
±30°;input signal ±5V; linear distortion <2%
Laser pattern
Hundreds of patterns and animations are built into the motherboard. The built-in patterns and animations can be updated with SD card.
Control method
ILDA standard computer laser software/DMX512/sound control/self-propelled/master-slave
Control interface
International ILDA DB25 interface and RJ45 network cable interface, which can be connected to general laser software such as Pangolin, and the international general DMX512 interface.
DMX special effects
broken pen, strobe, rotate, move, scroll, split image, draw gradually, change color, change size, etc.
Safety and intelligence
no signal light is off, DMX signal and PC signal can be switched. With beam protection function, when the galvanometer fails, it will automatically turn off the light when only one beam of light is emitted.
Applicable places
small and medium performances, bars and other places.
Working environment
indoor (minus 10 to minus 35 degrees)
Cooling system
The laser is equipped with TEC cooling, and the whole machine is forced to cool by a fan.
Does Newfeel NF880 laser lights come with Dmx cable included?
Yes, DMX cable is included.
What is the NF880 laser light showing the exact beam angle on this unit?
Laser exit beam diameter: 6mm The divergence angle of laser beam: 1.6mrad
Can you mount NF880 ilda lasers light on a stand/truss?
Yes you can, comes with a 'u' bracket and two hex bolts for the base of the unit to enable it to hang from a stand. I have made a couple of stands and they work perfectly.
How many dmx channels do the NF880 nightclub lasers need if you are using a dmx controller?
You can choose the 6/20CH DMX controller to control them.
Do I have to have dmx or do NF880 concert lasers work on their own ?? Is there a controller program to activate it?
Hello, You don't have to have a dmx controller, it has 4 modes, auto/sound activated/master-slave.If you don't have a dmx controller, you can use the mode auto/sound activated. And there has no certain program, you can program it by a dmx board. You can program it with your own taste.
Are the beams flooded or narrow spots?
They're narrow square spots. It's a pretty effective unit for the price, but definitely worth investing in a dmx controller if you don't have one already.