Description
Specs
Faq
Reviews
Item No.
M2-7003A
M2-7008A
M2-701A
M2-702A
Red Laser
R100mw/638nm
R300mw/638nm
R300mw/638nm
R500mw/638nm
Green Laser
G80mw/520nm
G80mw/520nm
G80mw/520nm
G500mw/520nm
Blue Laser
B120nm/450nm
B120nm/450nm
B1000nm/450nm
B1000nm/450nm
Scanning system
15kpps
15kpps
15kpps
15kpps
Full-Color Animation Home Party Flashlight
The Laser Black Cube by Newfeel Lasers is a powerful, portable, and easy-to-use laser system designed with DJs, Musicians, and Live Performers in mind.
The M2 Lasers Cube is a one-of-a-kind cross-platform laser control system that turns anyone into a laser expert! The user-friendly interface puts beams, graphs, laser maps, and summaries at your fingertips, allowing you to create spectacular laser shows in minutes
The M2 Lasers Cube is designed to show off amazing laser beam aerial effects such as - Visualizers, Beam Effects, Abstracts, Animations, Beam Shows, and more! - Full color, wall-to-wall, lightweight and portable, ready for any show or event.
Small and easy to carry
Create stunning laser shows in minutes using the autoplay mode. Experience endless creativity with built-in features like visualizers, effects, summaries, and more.
The M2 Lasers Cube is a powerful full color RGB laser projector that is portable and simple to use, allowing you to take it with you wherever you go.
Why choose M2 Lasers Cube?
• True plug and play laser system
• Simple laser geometry and animation
• Accessible laser display foot graphics and beams
• Instant digital signage with no laser experience required
• Enhanced visuals for style shots, music videos and more
• It is an open source hardware that allows programmers to make additional software
Pattern has the effects of broken pen
The pattern has the effects of broken pen, strobe, tumbling, moving, stretching, zooming, gradual drawing, speed, color, etc. It has the function of pattern size adjustment, built-in 128 beams and animation patterns, which can be used for beam animation performance, laser advertising, laser Projection laser sky net beam performance, laser flowing line effect.
Designed for DJs, musicians, and live performers. With built-in DMX functionality and exciting laser shows with special laser beam effects, you can express yourself endlessly.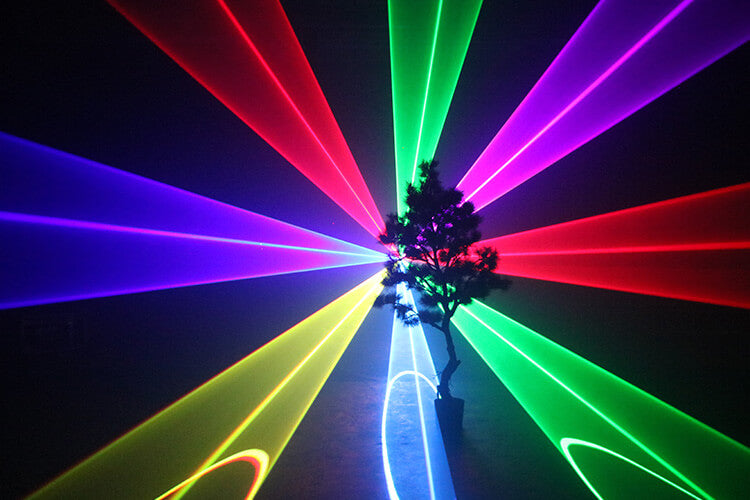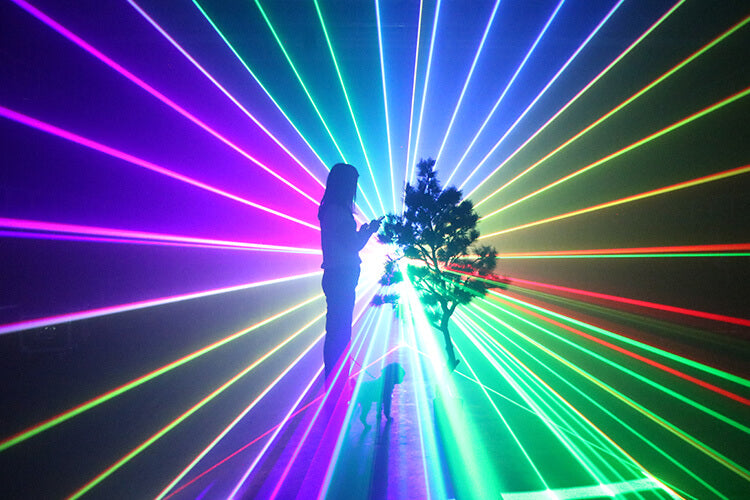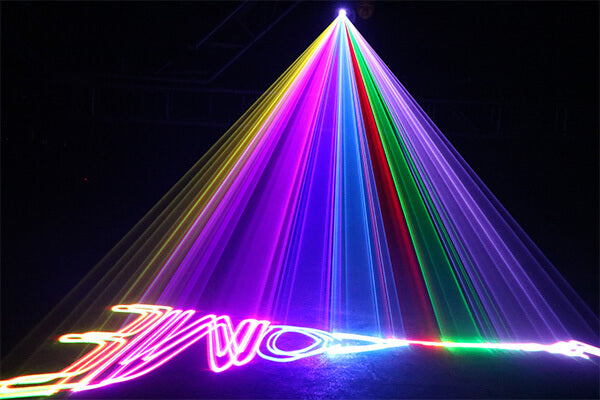 Working voltage
AC100-240V 50/60Hz
Laser power
532nm green light 80mw, 638nm red light 100mw, 150mw/450nm
Laser color
red, green and blue
Scanning system
15kpps galvanometer
Laser pattern
15 sets of pattern library, more than 1,900 patterns
Control mode
DMX-512, voice control, self-propelled, master-slave, remote control
Cooling system
forced cooling by fan
Does this need to be attached to the ceiling to work best or can you place on a table or the floor?
A tabletop or floor will work, but mounting higher will give better effect. If you need more services,please contact us sunny@nfstagelight.com ,we can help you solve all your problems and will do our best service for you,Your satisfaction is our success!
Is this lazer light show compatible with Google android phone?
No, there is no apps for it
What are the dmx in/out for??? and do you recommend ?
A DMX is a controller, yes I recommend it. Look on Youtube for a video on it.
Would like to mount high on wall in a venue and wire it with switch will it start working automatically once powered on?