Description
Specs
Faq
Reviews
Height
165-170cm
170cm
175cm
180cm
Weight
100-120g
120-135g
135-150g
150-170g
The led robot suit is NEW FEEL new product series, suitable for club, parades, concerts, and other activities.
This LED suit uses a remote control to change the color and flashing frequency.One charge can be used for 1-2 hours continuously.
Custom full body armor, skirt, corset and headgear with color changing LED lights
Flexible performance with many customizable features Great for the wow factor, complement the DJ or live bands and exhibitions We are headquartered in China and can host events worldwide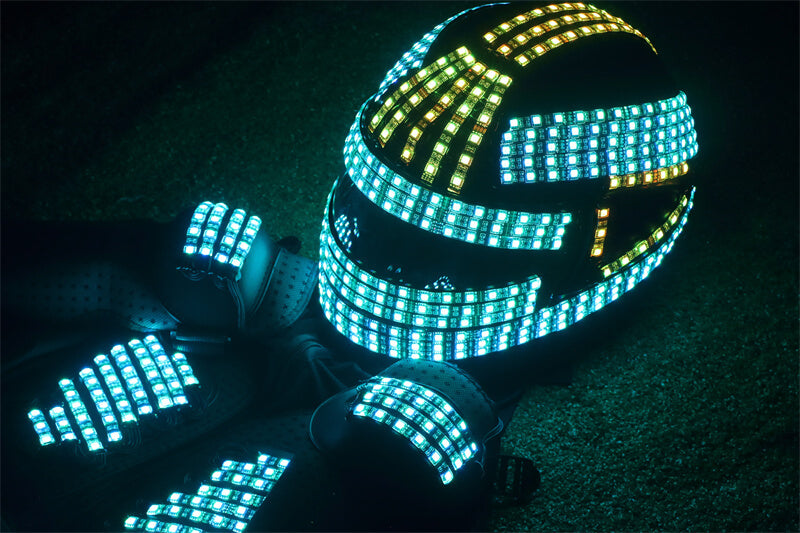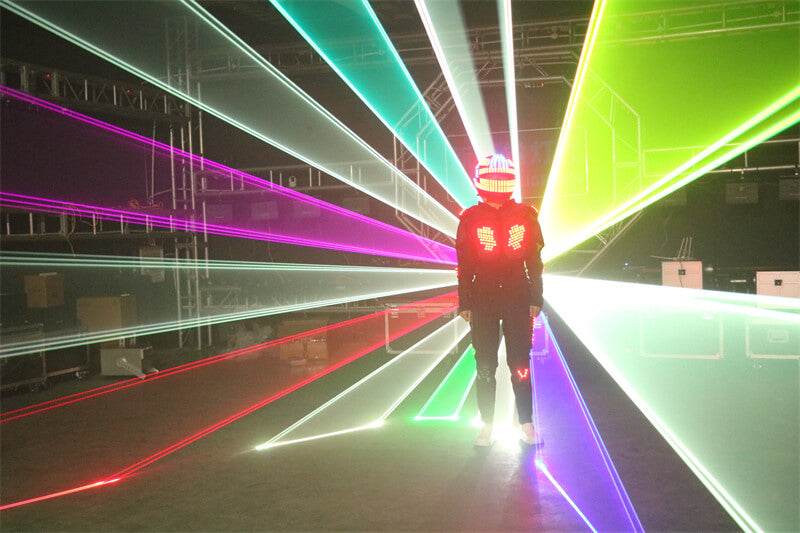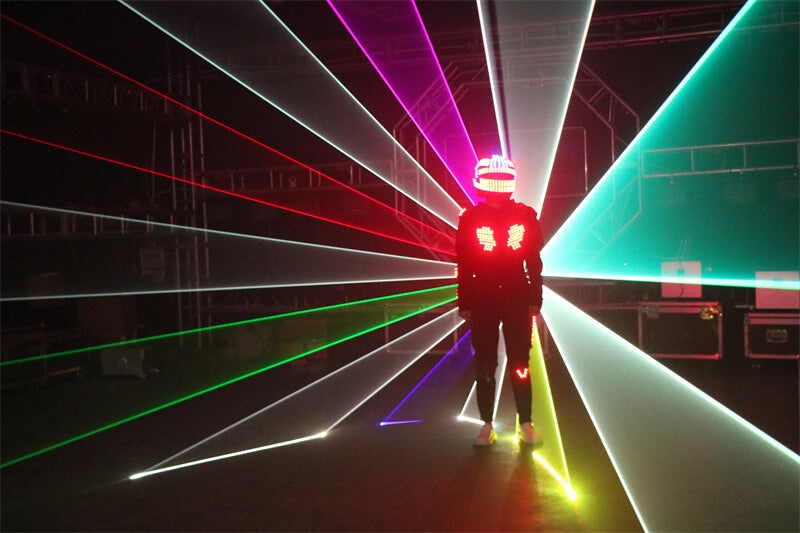 LED dance Robot Costume With Remote Control
The wearing fabric is made of cotton, combined with anti-oxidation RGB led strips, which can meet the performance effect while wearing comfortably, and has a long service life. Dancers in incredibly unique LED costumes
Our utterly incredible LED Costume Dancers will put on a dazzling illuminated show as your guests have never seen before. The one-of-a-kind LED costumes are a visually exciting addition to any nighttime event and are suitable for multiple occasions.
The LED Costume Dancers offer a unique dance show that is perfect for any dimly lit venue or nighttime event as this really makes their stunning outfits stand out. The LED costumes consist of custom-made skirts, corsets, and head-pieces with color-changing LED lights. These incredibly sophisticated LED costumes are very futuristic but equally elegant making them well suited to high-end events.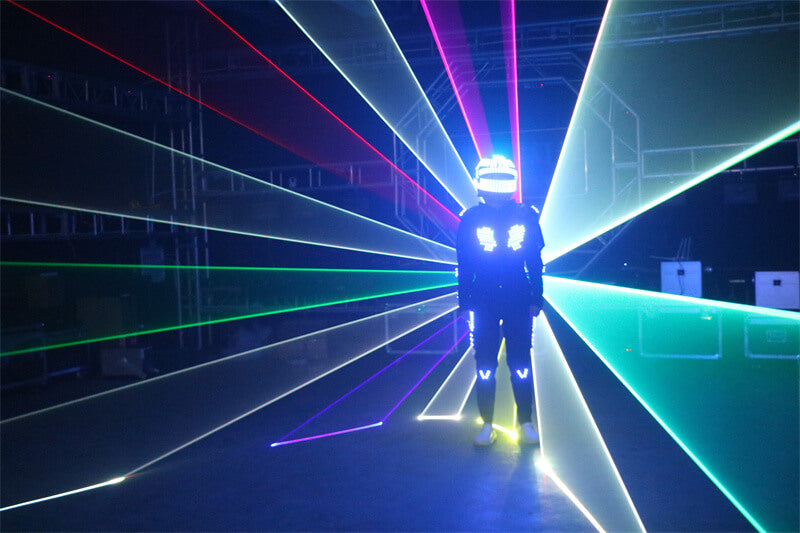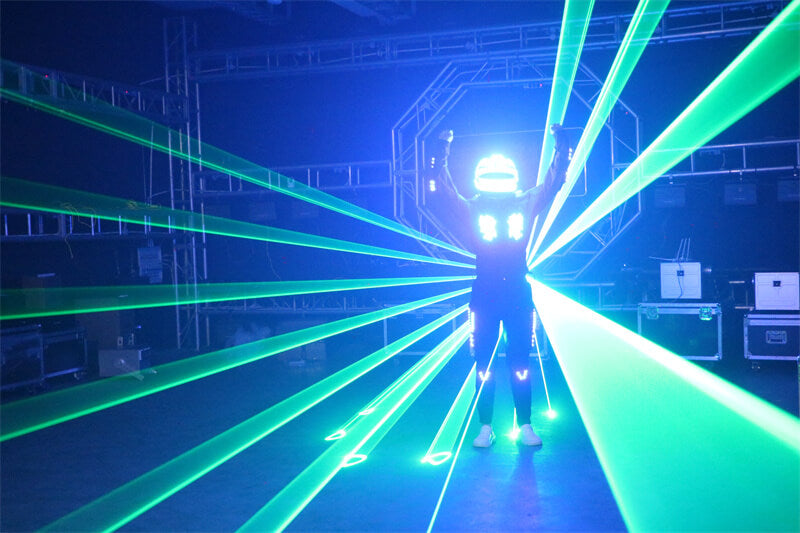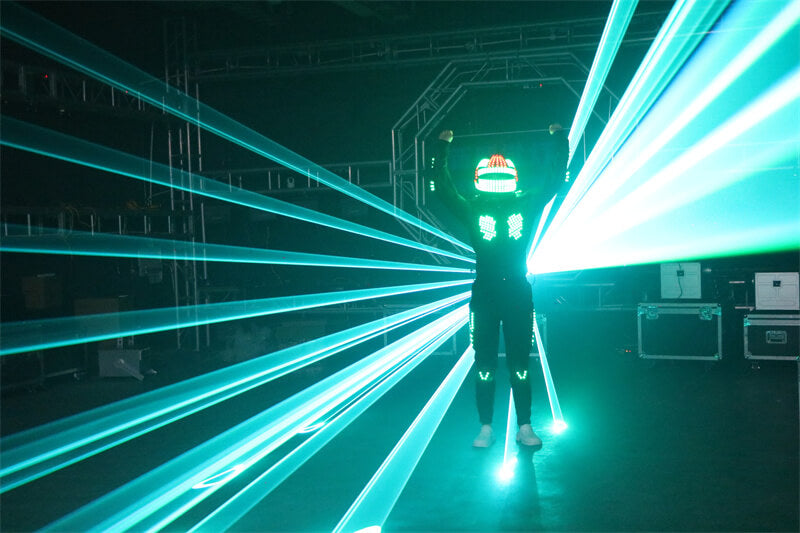 Laser output power
*532nm 50mW high power laser head (green) *650nm 100mW high power laser head (red) *450nm 50mW high power laser head (blue)
With high-capacity lithium battery
one charge can be used for about a week.
Glove size
all are one size, the elastic band can adjust the size, suitable for men and women.
Notice
All laser gloves on the market today cannot be used for a long time. In a responsible attitude, in order to use the laser gloves for a long time, please use it for 30-40 seconds and rest for 10 seconds.
Special instructions for the size of clothing and pants
the armor is thin, and if you are overweight, you must choose one size larger.
How long is the charging time?
2-3 hours. We will specially equip you with a charger
Does this require a dmx controller? Or is the dmx controller only required for other custom controls/modals?
No, it can be controlled by remote control.
Will this work without the dmx controller and does it have a sane active mode?
Yes, it works without a DMX controller and the sound active mode works reasonably well in small areas, but not sure how good the sensitivity is in large rooms.
Can you freeze it like a cheap laser or pause it in the scanner