Description
Specs
Faq
Reviews
Item No.
LY-701A
LY-702A
LY-703A
LY-704A
LY-705A
Red Laser
R300mw/638nm
R500mw/638nm
R600mw/638nm
R1000mw/638nm
R1200mw/638nm
Green Laser
G80mw/520nm
G500mw/520nm
G800mw/520nm
G1000mw/520nm
G1400mw/520nm
Blue Laser
B800nw/450nm
B1000nw/450nm
B1600nw/450nm
B2000nw/450nm
B2500nw/450nm
Scanning system
20K
20K
20K
20K
20K
LY moving head lasers lights high-precision stepping motor scanning system
The Laser LY Moving head laser is a powerful, compact moving head fixture with lightning fast 540° pan and 270° tilt for spectacular visual effects. It's equipped with a 1~5W, beam laser with 20KPPS galvo scanners for smooth shapes, animations, and more for jaw dropping effects.
The moving head laser light extreme torque of LY and the resulting high speed of up to 180rpm make this device the perfect equipment for spectacular performances and effects.
The ILDA control signal can be completely used for laser control, and the LY movable yoke itself is controlled by the standard DMX512 protocol. DMX-only operation is also possible.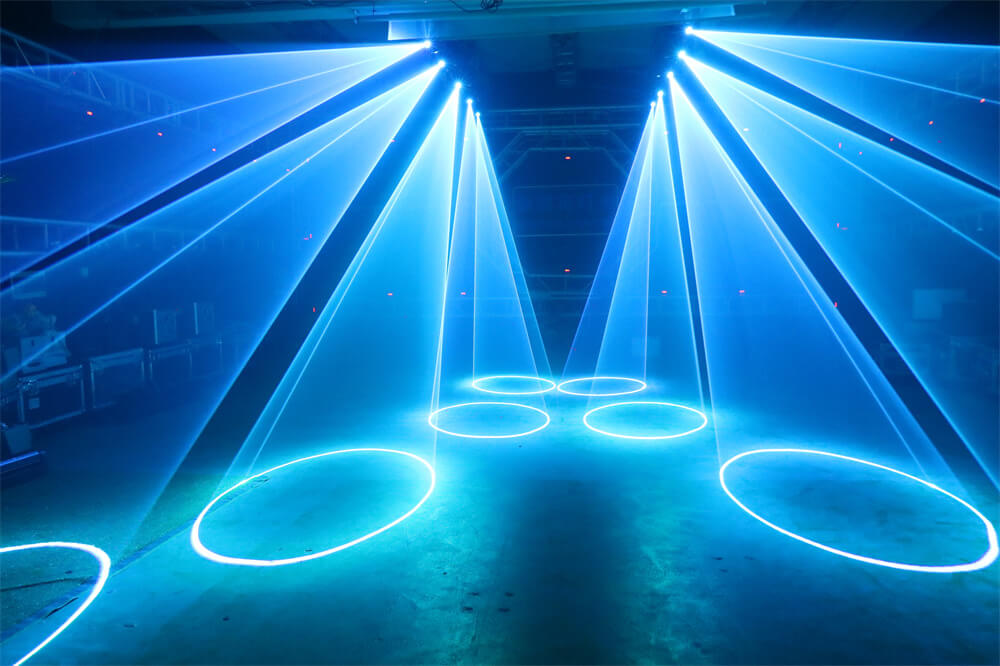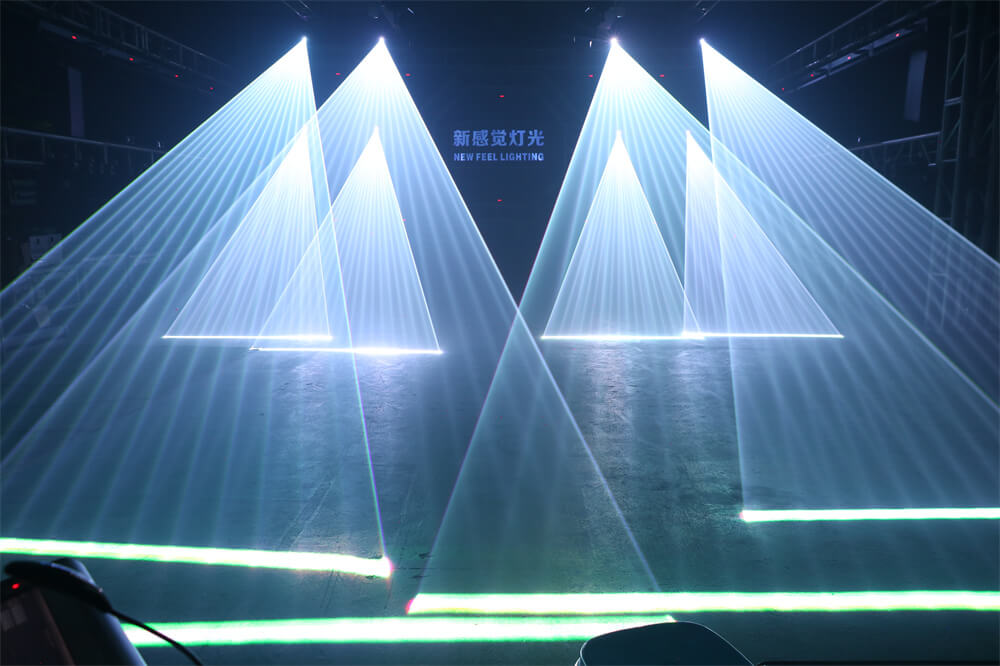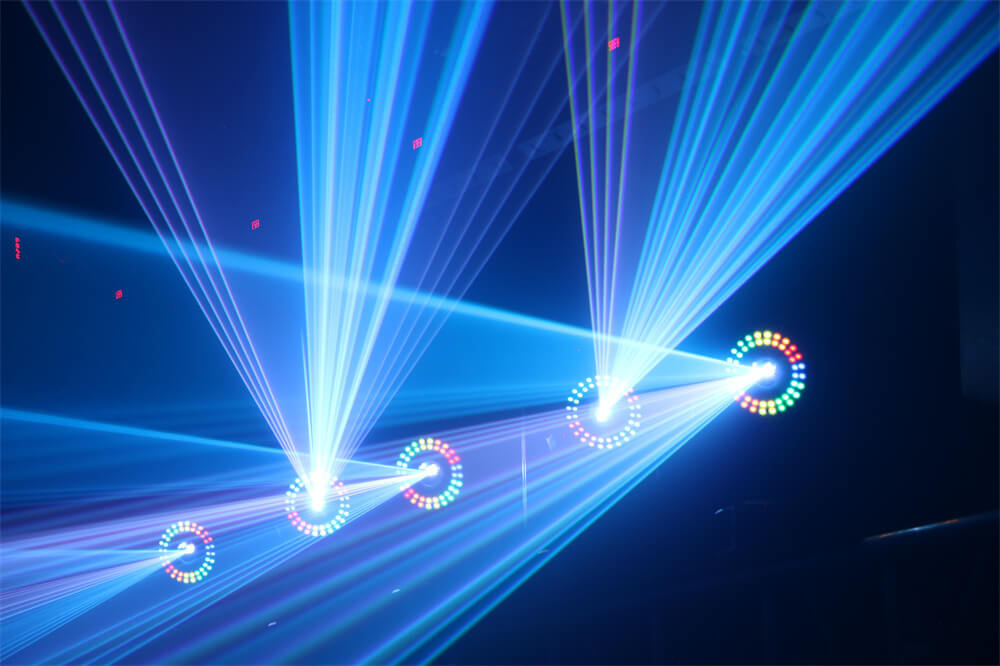 Easy to install and carry
For safety reasons and to hit the beam target correctly, the LY laser moving head has an absolute positioning accuracy of 0.022° per axis.
The LY shell is made of sturdy anodized aluminum, which is very durable. Plastic parts are neither used for the yoke nor for the base.
Dynamic Fixture is Packed
This ultra-bright, dynamic fixture is packed with a ton of goodies like 133 geometric figures, 14 animations, 128pcs types of beam patterns, and even 2-in-1 frame projection in DMX mode where any two separate shapes or patterns can be individually positioned, rotated, zoomed, and more.
The LY Moving head laser mode
It can be operated in standalone mode, auto-beam, auto-animation, sound active mode, or via DMX where you take full control of pan/tilt, zoom in/out, rotating, drawing, billowing, speed, and animation selection. Want to really throw things over the edge at your next show? Set up two or more Laser FY Moving head laser fixtures in master slave mode with reversed pan and tilt, add some fog, and get ready to witness some serious mirrored fat beam liquid sky effects.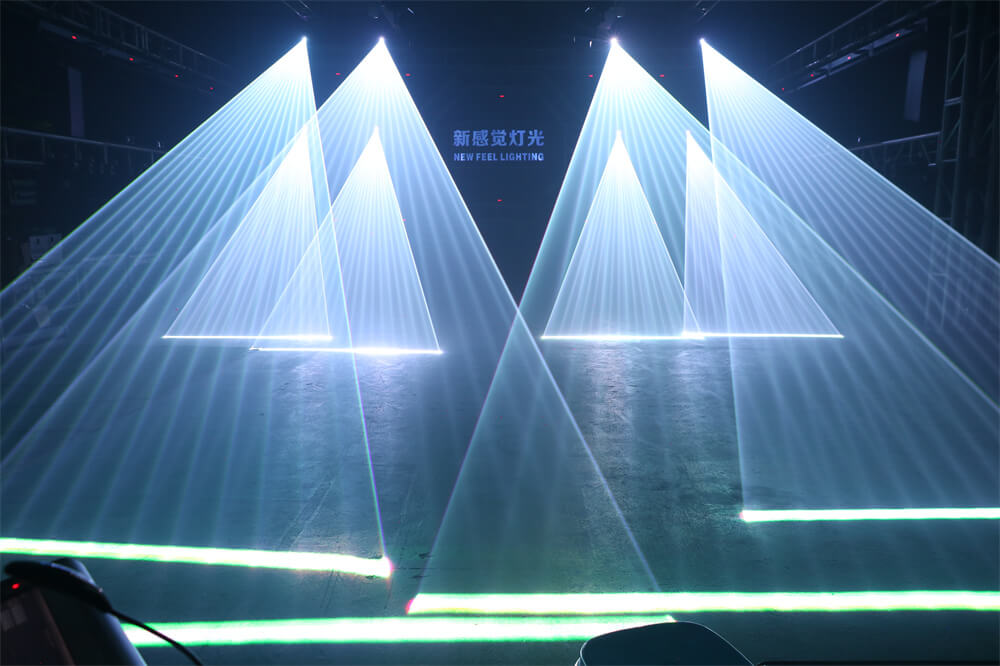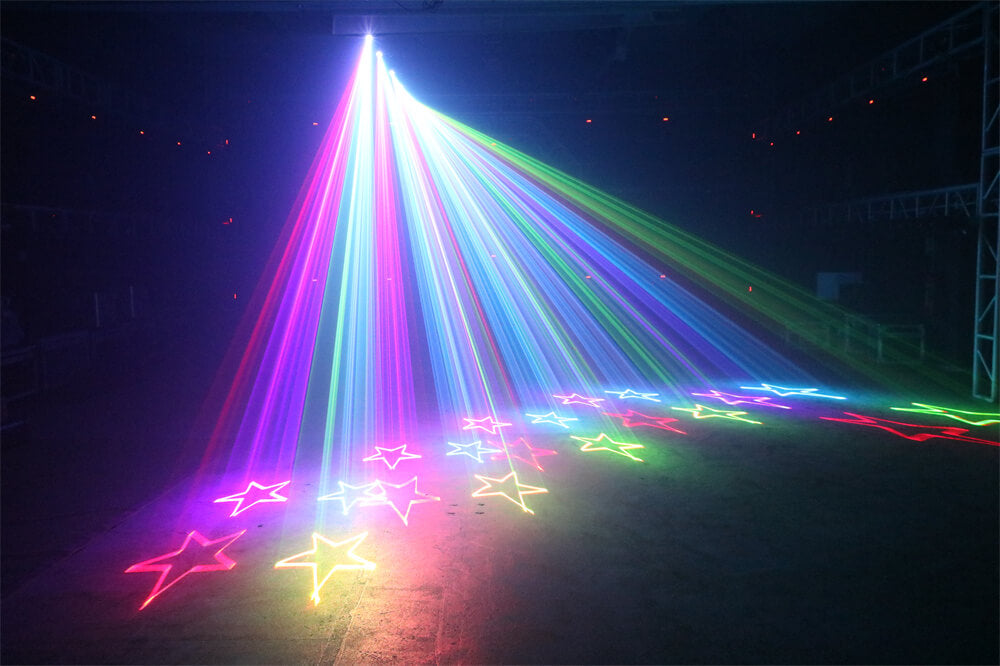 Rated Voltage
AC100V -230V ±10%
Rated frequency
50HZ~60HZ
Power consumption
150w max
Laser power
1000-5000mw(G520nm 、 B450nm 、R638nm)
Laser pattern
128pcs laser patterns
Scanning
15 or 20kpps vibratory mirror system
Why the moving headlight is not responded to the DMX controller?
DMX LED should be on. If not, check DMX connectors, and cables to see if link properly.
Why the moving headlight is not responding to the sound?
Make sure the fixture does receive a DMX signal.
Can you make the laser light moving head only shine in one color? Like just a white roaming light? That's all I need thanks
Can I mount them on top of my speakers?
It comes with a bracket to be mounted to the bar stand. The only way to mount to a speaker is a bracket being drilled to the top of speaker.