Description
Specs
Faq
Reviews
4 Control Modes
Our F1033 DJ strobe laser lights have 4 control modes: 1)DMX: control light by the DMX controller; 2)Sound control: lighting effects change with the rhythm of the music; 3)Automatic: light colors and effects change automatically;4)Master-slave mode, through the DMX512 signal, the system allows many devices to work together.
F1033 1.8° high-precision stepping motor scanning system
The beam effect of the Newfeel F1033 laser Christmas light projector has starry spots and small patterns, 15 sets of pattern libraries, for indoor, outdoor, DJ, band, bar, bar, club, karaoke, party, etc. to decorate magical and colorful pictures.
【Stunning Your Events】
Elevate your party to the next level with our upgraded DJ lighting that combines Red Blue 3D Animation RGB Laser, Red & Green effect light, and colorful strobe Light. Freely combine them at your demands to create over 100 patterns and more than 300 lighting effects for a more dynamic and visually engaging atmosphere
【More Clear Pattern, Wider Coverage】
With our high-power laser lights source and high-strength chip, the entire space is bathed in vibrant, colorful light (about 500-800 square feet) to impress your guests and make your event unforgettable, keep entertained all night long.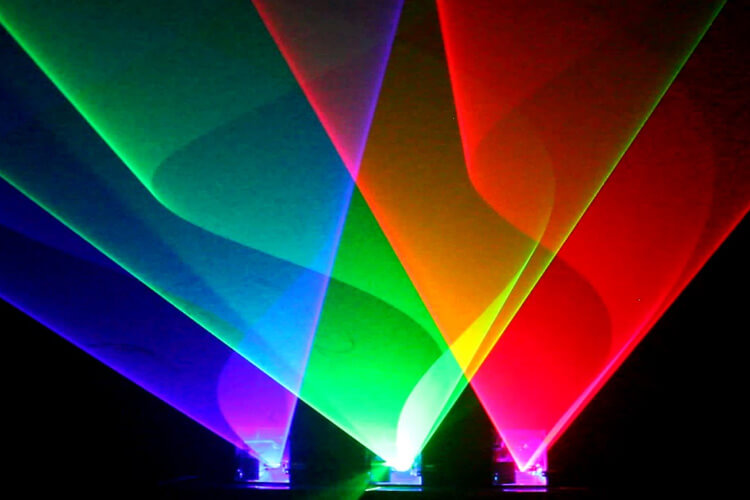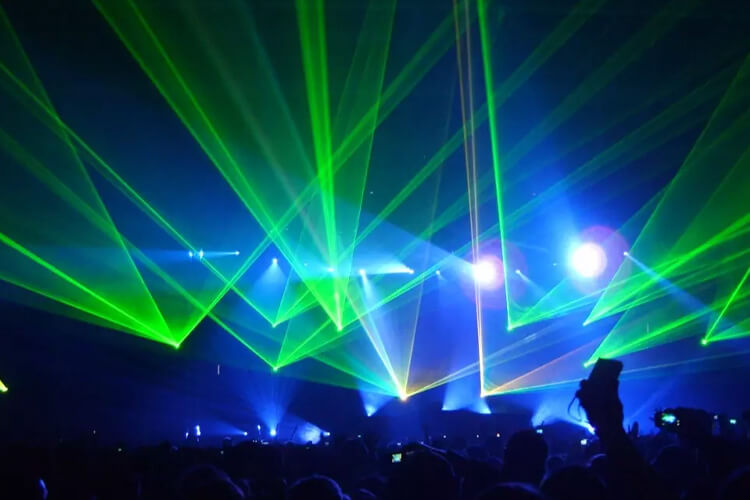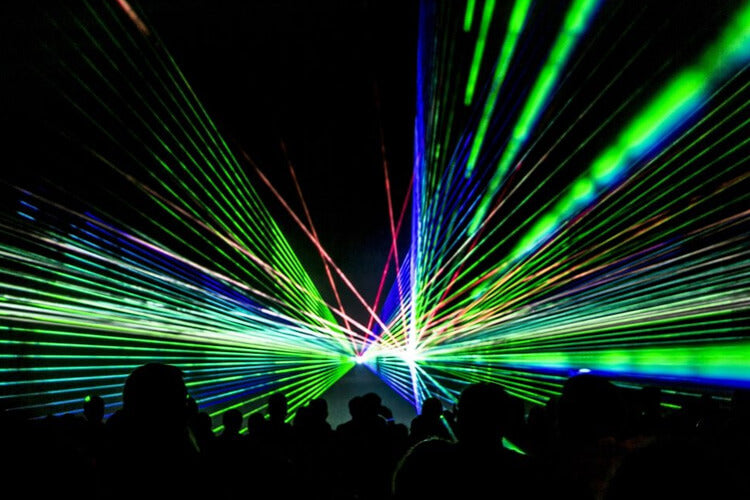 【Professional Light Control】
Our party lights comes with a built-in high-sensitivity sound sensor that captures surrounding sounds in sound control mode, allowing the lights to change with the beat of the music and create a corresponding atmosphere. A must-have DMX512 controller function can program and customize your lighting effects, making it easy to synchronize your lighting with the music and other elements of your show
【Customer Service】
If you have any questions or concerns, please don't hesitate to contact us. Our after-sales team is available to assist you and help resolve any issues that may arise. You deserve the best services. *(Reminders: 1. Please do not look directly at the laser light with your eyes )
【Effects Better in Smoky Environments】
These pattern effects will show perfectly in "smoky or foggy environments". So enjoy the fantastic light effects of some smoke!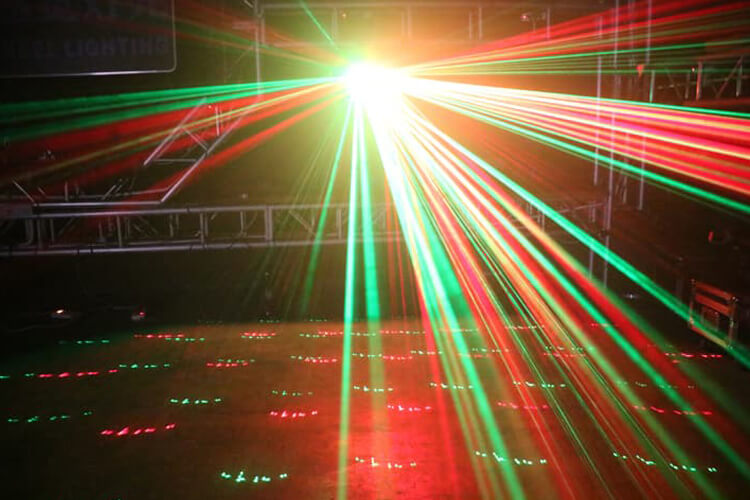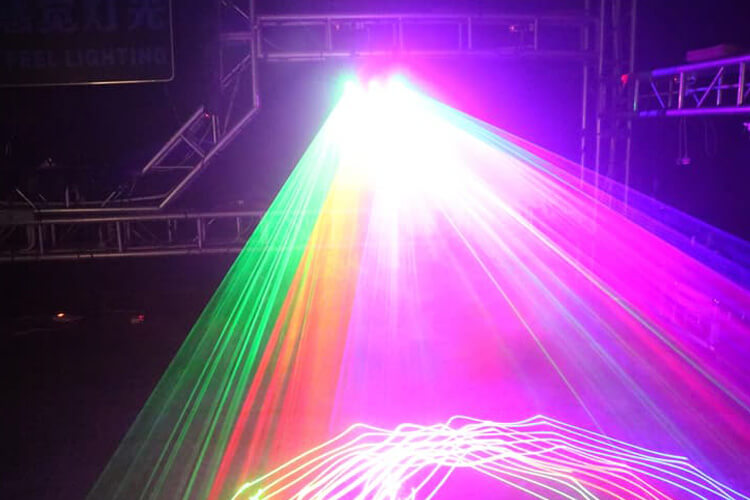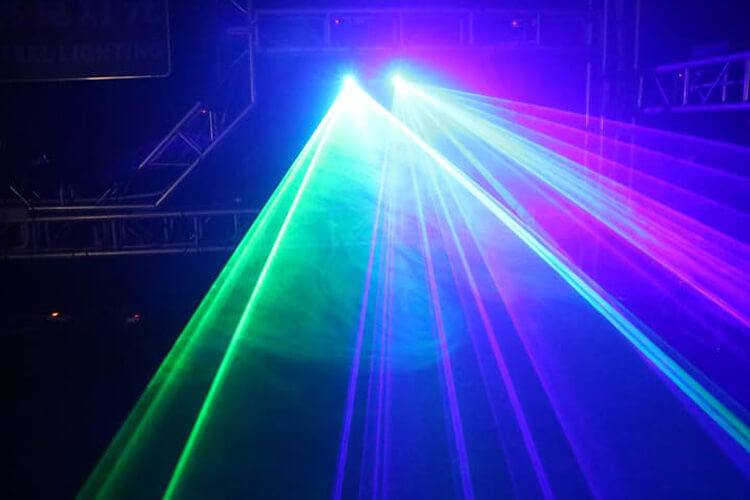 Operating Voltage
AC100-240V 50/60Hz
Laser power
Green 80mw/520nm; Red 100mw/638nm; Blue120mw/450nm
Scanning system
1.8° High precision stepper motor scanning system
Effects
Full sky star spot and small pattern
Control mode
DMX512; sound active; auto run
Working environment
indoor (10-35)
Can you install F1033 Halloween laser projector equipment on a portable stand? Will it be a problem if I turn it upside down and use the stand?
According to my experience, it can be installed in any direction.
Is there a protective lens on the front of the F1033 series starry night laser light? After the first use, I found that my lens has no protective lens
I don't think so. Neither did mine. I suspect that if there are them, they will interfere with the beam.
Can the laser combination of F1033 be used outdoors?
Yes, it can be used outdoors, but if you live in a high humidity area or expect to rain, please put it indoors or make sure to cover it with some kind of plastic or other things that will not be exposed to the air. Humidity Because it will damage the internal components, it can definitely be used outside.
Who can share the F1033 Optical Laser Combination User Manual with me? Or share the dmx input channel of this fixture? Trying to determine if it is what I want and can't find it.
Hello friends, our product webpage can directly download these PDF materials.