Description
Specs
Faq
Reviews
Item No.
F1066
F1066C
F2066
F2066A
Red Laser
R100mw/650nm*2
R100mw/650nm*2
R100mw/638nm*2
R100mw/638nm*2
Green Laser
G60mw/532nm
G80mw/532nm
G80mw/532nm*2
G80mw/532nm*2
Blue Laser
/
B150mw/450nm
B100mw/450nm*2
B100mw/450nm*2
Christmas Laser Lights Applications
F1066 christmas laser lights has RG or RGBY or RGB laser color dj lighting, 15 sets of the pattern library, for indoor, outdoor, DJ, band, bar, bar, club, karaoke, party, etc. to decorate magical and colorful images.
Spider Radium Web Laser
The spider radium web laser party lights is scanned by a high-precision stepper motor, and has 4 single-color disco laser lights outlets, namely red light, green light, red light, and blue light, which can produce a wide range of independent beams for scanning.
Each dj laser light outlet can be independently controlled, and the beam can be moved, zoomed, and rotated at any angle.
Built-in a variety of patterns to meet a variety of effect needs. Simple and compact design, easy to install, suitable for mobile performances and various entertainment occasions.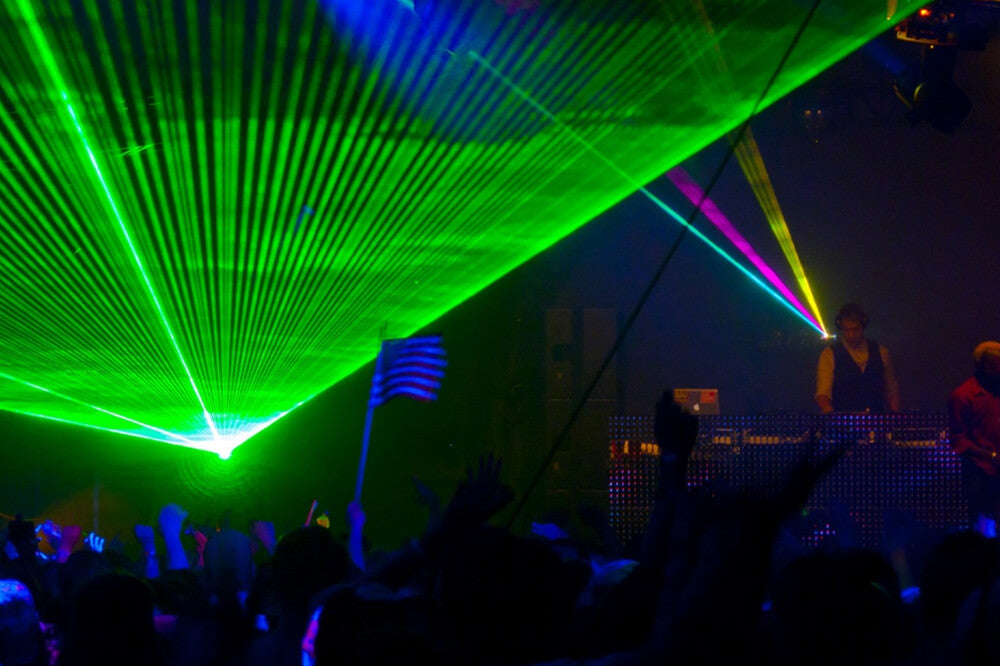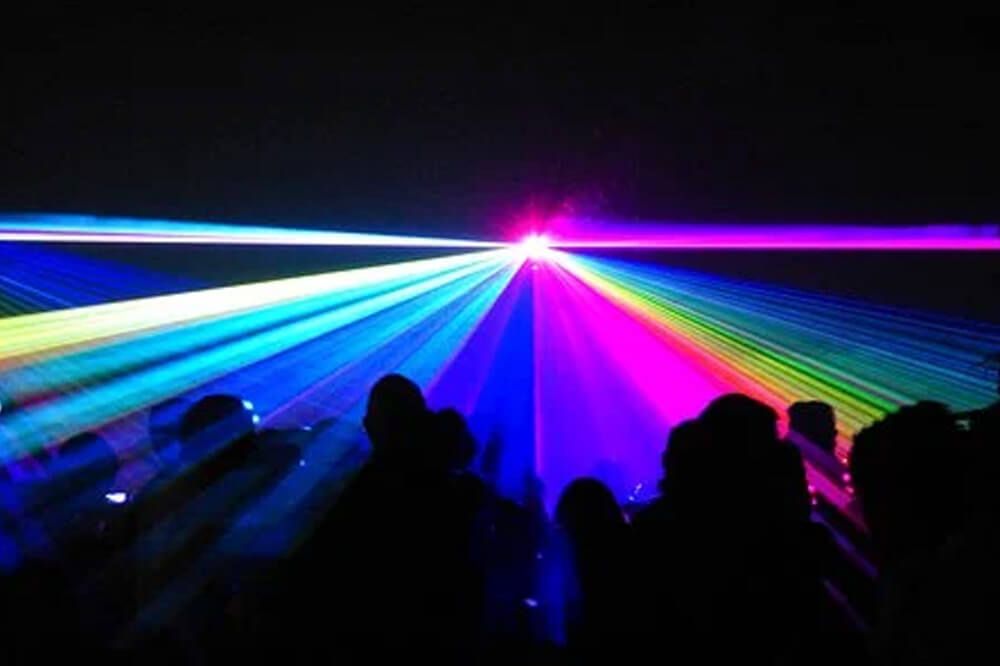 Easy to install and easy to carry
F1066 backyard party christmas laser lights can be hung anywhere, there is a hanging hole at the bottom of the bracket, which can be hung on the roof, wall, or table. The stand can be manually rotated by 180 degrees; no matter where it is hung, it can be rotated as needed.
Ultra-small size, easy to carry outdoors.
4 Independently Controllable Rave Lights Outlets
The christmas laser lights outlet is independently controlled, which can control whether each light outlet emits light at any time, and the angle of the light, which increases the operation of details and can create a more perfect effect.
Each Beam Can be rotated arbitrarily at multiple angles
The beams can be rotated arbitrarily at multiple angles, and the beams are intertwined to form a bright and colorful "light net", which makes it easier to mobilize the excitement on the field and push the scene to a climax.
High-precision Stepper Motor Scanning
The spider radium web christmas laser lights is scanned by a stepping motor, which is smooth and delicate, and can accurately show the desired laser party lights effect. And the effect is stable, it is not easy to fail, and it is conducive to maintenance.
Built-In a Variety of Patterns, Rich Effects
When each dj laser light outlet punches out a variety of patterns provided inside, multiple smooth surfaces are formed in the air, presenting a richer effect under the control of DMX, leading the entertainment atmosphere.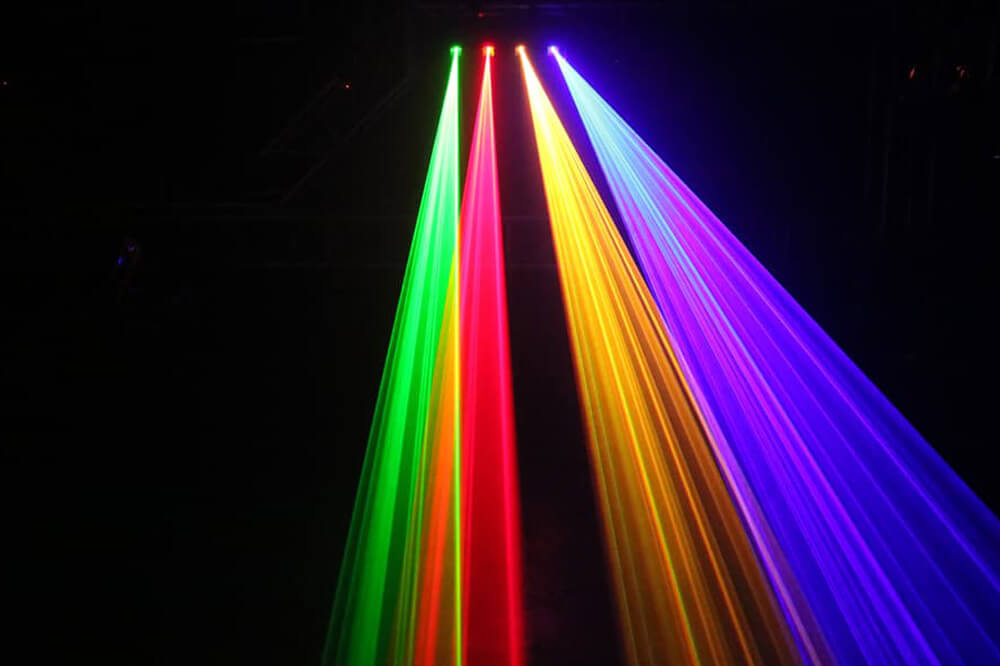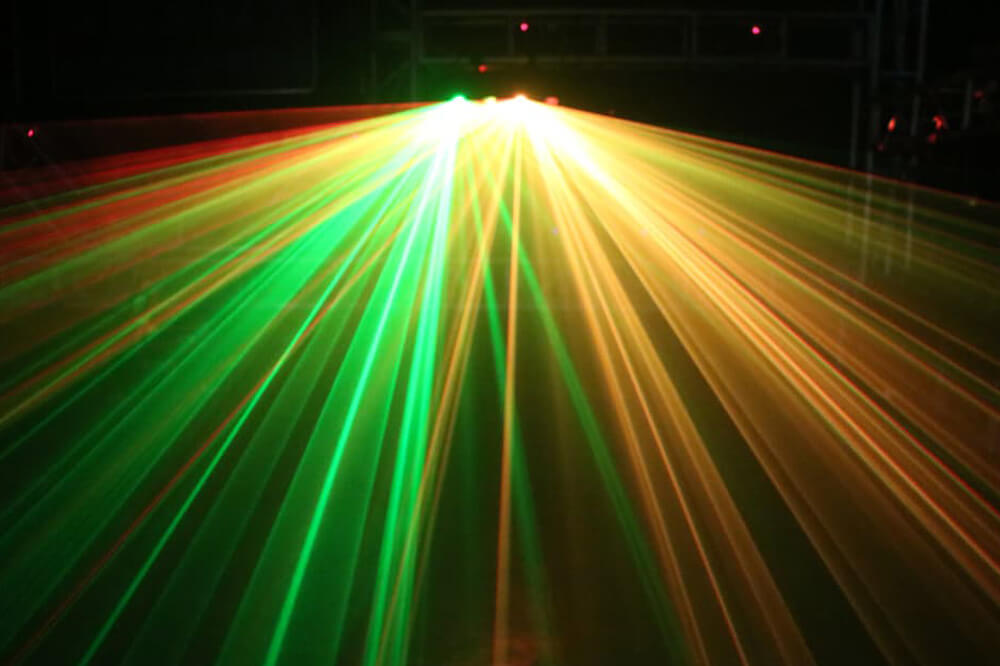 Power supply
110V-220V/50-60HZ
Laser power
80mW/520nm Green, 100mW/650nm Red, 150mW/450nm Blue
Laser color
RG or RGBY or RGB
Scanning system
high-precision stepper motor scanning system, large-angle scanning
Control mode
DMX-512, voice control, self-propelled
Cooling system
forced cooling by fan
inner size
700X250X180mm inner
Outsourcing size
720X530X410mm 4 pieces Outsourcing
Working environment
indoor (10-35°)
Which program needs to be manually controlled?
Any DMX program should work. Just set the DIP switch to the desired address.
Can you install this device on a portable stand? Will it be a problem if I turn it upside down and use the stand?
According to my experience, it can be installed in any direction
Is there a protective lens on the front of the F1066 series laser projector? After the first use, I found that my lens has no protective lens
I don't think so. Neither did mine. I suspect that if there are them, they will interfere with the beam.
Can F1066 party laser light be used outdoors?
Yes, it can be used outdoors, but if you live in a high humidity area or expect to rain, please put it indoors or make sure to cover it with some kind of plastic or other things that will not be exposed to the air. Humid environment, because it will damage the internal components, but it can definitely be used outside.
Who can share the user manual with me? Or share the dmx input channel of this fixture? Trying to determine if it is what I want and can't find it.
Hello friends, our product webpage can directly download these PDF materials.
Can I buy a blue replacement light for the F1066 party laser equipment? I have an old one, and the light is dimming.
Please contact us within the order, we will help you solve this problem.