Description
Specs
Faq
Reviews
Green Laser
G3000mw/525nm
NF560 10W 30KPPS DJ equipment laser light.
The Newfeel NF560 10W laser light series is an Analogue Laser Projector 10000mW. This powerful semi-professional pure diode laser is capable of intense standard laser effects like; beams, waves and tunnels but also basic graphics. The NF560 offers sound-to-light, stand-alone modes, and DMX control so it can be controlled with the rest of your lighting. It also features an ILDA port for professional computer control.
Better Spot Quality
It uses a new generation technology laser. With better spot quality, the spot diameter measured at a distance of 50 meters is only about 30% farther than conventional lasers, so the range and intensity are greatly increased.
Intelligent temperature control system
We specially designed a set of intelligent temperature control systems for NF560, it can work under the ambient temperature of minus 30 degrees to plus 40 degrees and has independent over-temperature protection, you no longer need to worry about the delicate laser being damaged due to overheating.
All fans are controlled by MCU for linear speed regulation. If the temperature inside the lamp is within the normal range, the fans will gradually reduce the speed. This enables him to run with lower noise on very demanding occasions, such as studios, concerts, and other occasions with harsher noise requirements.
It sounds simple, but this is not a simple temperature control system. We spent two years testing the operating conditions of various lasers at different temperatures to obtain specific setting parameters. We can say that these setup modes are close to the ideal working condition of the laser.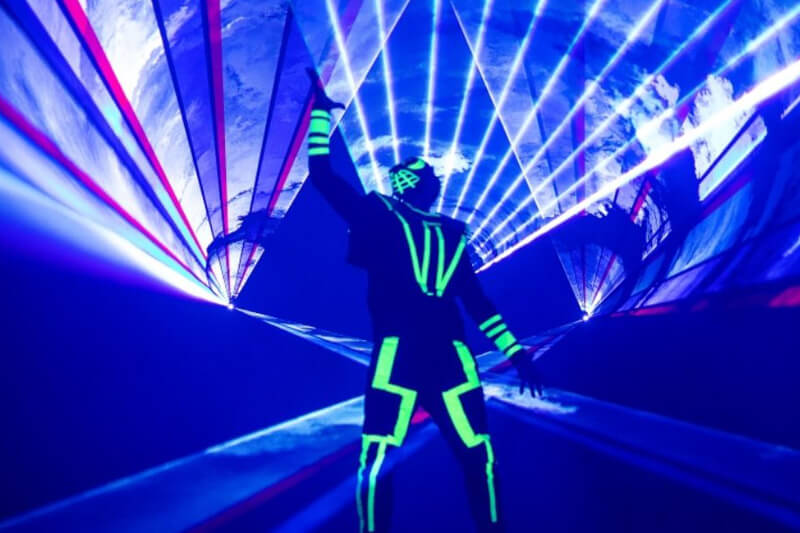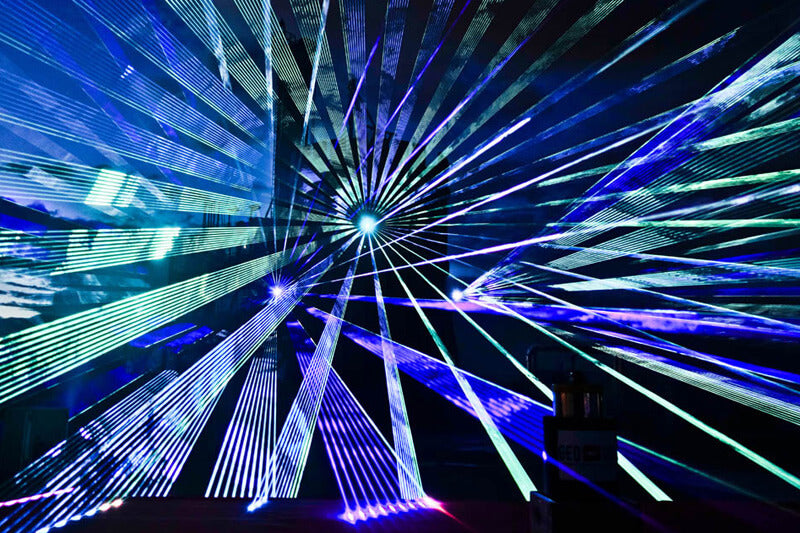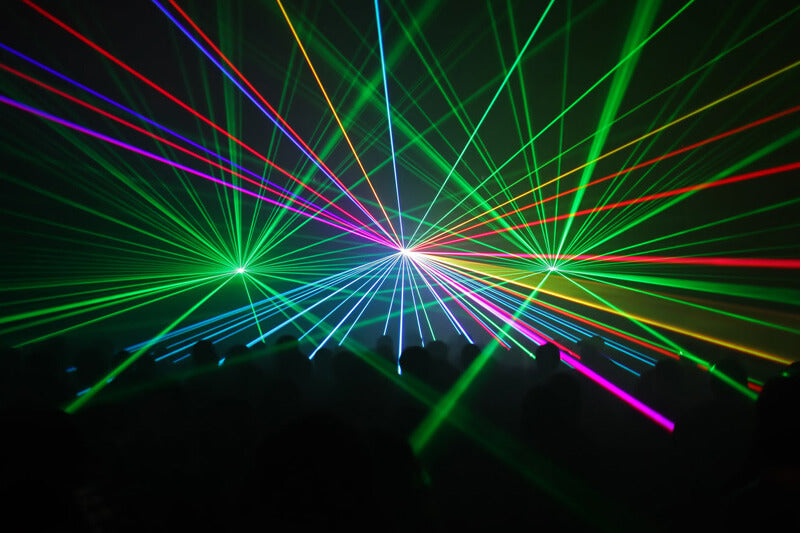 Application
NNF560 laser light technologies are suitable for large and medium-sized indoor venues, as well as small and medium-sized outdoor performances and festivals (up to about 10,000 people).
The laser can also be used indoors and outdoors to project laser graphics, logos, text, and laser billboard advertisements.
The NF560 series all use NewFeel diode lasers.
Under the input drive signal of 0-5V, the laser drive circuit can provide a switching frequency of up to 100kHz.If each color of RGB has a modulation speed of 100kHz, you can theoretically obtain a color output of 360,000 colors.
The almost uniform divergence angle and spot size of various colors enable delicate color synthesis even at long distances.With a spot diameter<6mm and a very small divergence angle, you can get a higher brightness laser beam than traditional lasers at longer distances.
Applicable places:
It is suitable for bars that require high quality, performance, and stability.
Indoor large and medium-sized venues such as medium-sized theaters and hotel banquet halls.
The area is less than 1000 square meters, and the floor height is less than 12 meters.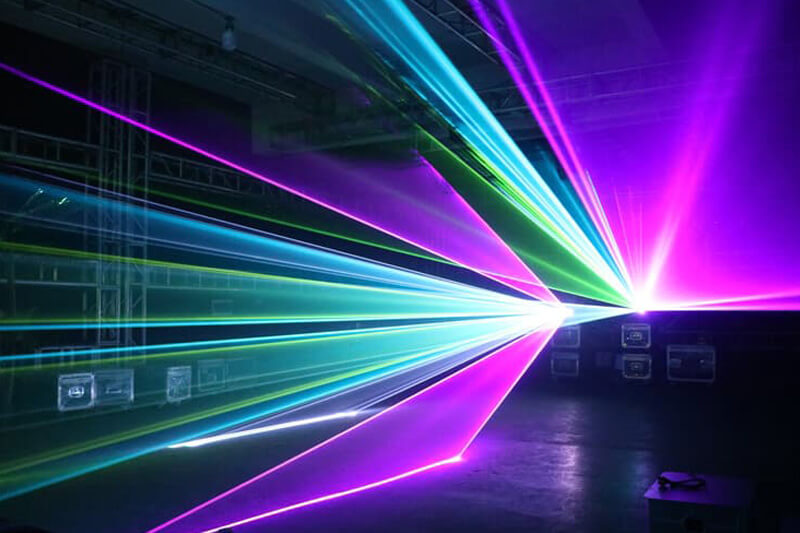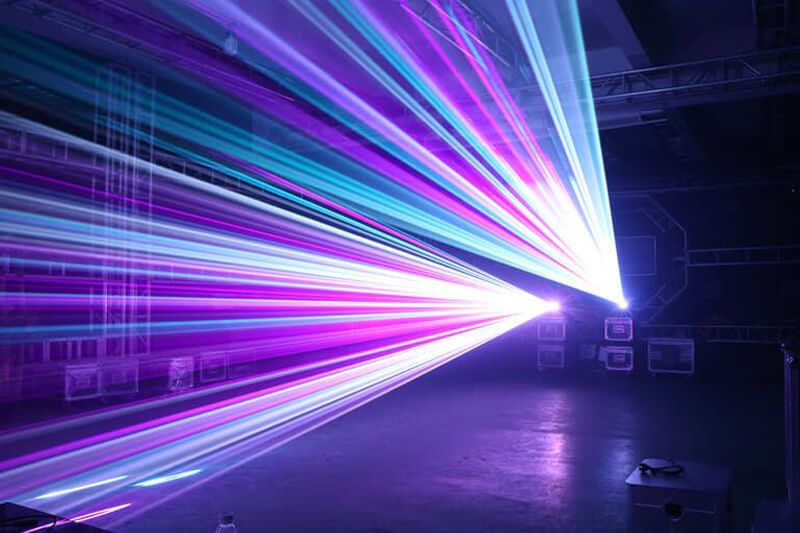 Power supply
AC110/220V, 50-60Hz±10%
Laser modulated signal
analog or TTL modulation
Beam diameter at the aperture
max 6mm
Beam divergence
max 1.3mrad
Laser wavelength
red 638±5nm, green 520±5nm, blue 450±5nm
Scanning system
20K-25KPPS high speed scanning
Control mode
international standard ILDA control /DMX512 signal control /self-walk/voice control/master-slave
Control interface
international ILDA DB25 interface, international DXM512 , can connect with American pangolin laser software and tiger, pearl, MA controller,etc.
Safety function
one beam protection, no signal to close the light,etc.
Suitable places
big show,dacing hall, club, Bar and other enterntainment venues
Working environment
indoor (-30~40 degrees)
What material is the NF560 laser club product case?
It is a metal case with a metal bracket.
Would Newfeel NF560 Dmx lasers work for an outdoor party?
Yes, it would, but it is not waterproof.
If I am unhappy with the NF560 ilda laser, What can I do about it?
Hi, dear. Any questions, please do not worry, please send the Email to us First by your order ID and tell us what is problem, we will do our nice service for you.
Can I use the Dmx controller to make NF560 Christmas laser light show laser display 3d patterns?
On the device itself or on the DMX controller.
Does the NF560 laser beam light have an SD card slot to insert ilda files? Does the device also come with an SD card to change the mode on the computer?
You can choose different items when purchasing: normal configuration/with SD card/with FB4.