Description
Specs
Faq
Reviews
Item No.
F5600-950
F5600-950A
F5600-960
F5600-965
F5600-980
F5600-990
F5600-1300
Red Laser
R12000mw/635nm
R12000mw/638nm
R15000mw/638nm
R20000mw/635nm
R30000mw/635nm
R30000mw/635nm
R40000mw/635nm
Green Laser
G15000mw/532nm
G16000mw/520nm
G24000mw/520nm
G15000mw/532nm
G20000mw/532nm
G30000mw/532nm
G40000mw/532nm
Blue Laser
B23000nw/447nm
B20000nw/450nm
B21000nw/450nm
B30000nw/445nm
B30000nw/445nm
B40000nw/445nm
B50000nw/445nm
Scanning system
25kpps(CHANGCHUN CNI)
25kpps
25kpps
25kpps(CHANGCHUN CNI)
25kpps(CHANGCHUN CNI)
25kpps(CHANGCHUN CNI)
25kpps(CHANGCHUN CNI)
laser rental Newfeel F5600
The laser lights Newfeel F5600 is the most powerful laser light show model ever is also rugged, and the Newfeel F5600 series laser light shows smoothly handle the rigors of the road, and also makes for a spectacular permanently installed lighting fixture.
The Newfeel Skylasers F5600 Series IP65 boasts 40-130W of RGB full-color laser effects, so it can easily produce bright and attention-grabbing effects in venues holding up to 5,0000 guests.
Landmark Laser Light
This outdoor laser light projector series laser light is aimed at outdoor landscape applications, such as landmark laser light, park landscape, etc.
The main features are: a lightning protection level upgrade, high-precision heating, cooling, and constant temperature, and can be equipped with GPRS remote control. Usually, an FB4 controller is built in.
Single beam range up to 7km
Outdoor laser lights are an optical sign in the urban landscape. It means that under the control of the computer, a high-power green laser beam scans over the city and changes dynamic lines, planes, rotating bodies, and specially edited graphics and text, which has a strong visual impact.
Electricity is the "light" of urban landmarks and scenic spots. It is known as the "business card" of cities and scenic spots. It has the following characteristics: long viewing distance, more than 50 watts of power, and a single beam range of up to 7 kilometers.
Reasonable structural design, made of aviation aluminum alloy material. This product is used in landmark buildings, tourist attractions, large theme parks, and other outdoor places.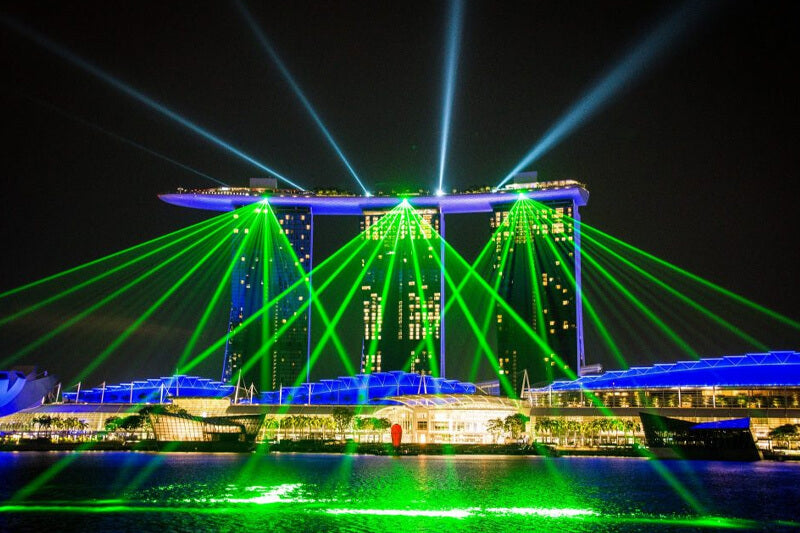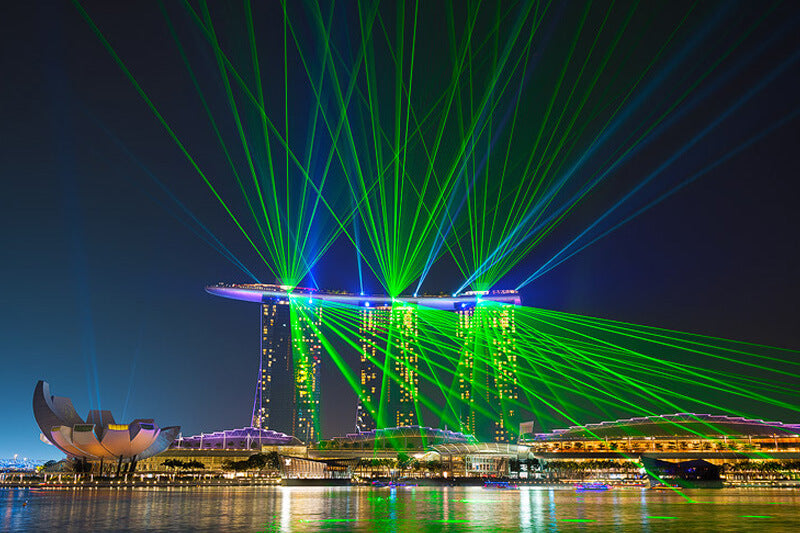 laser sky F5600 Series
Combining that much power with its precision 30K graphics scanners, the laser sky F5600 Series can also project enormous, vivid graphics hundreds of feet away.
You can produce the exact effect you want thanks to integrated NF-Laser Mercury control, so you can completely control the fixture from a pro lighting console (DMX, sACN, Art-Net).
Its advanced color mixing technology gets you the exact colors needed for your setting. Efficient, robust, and compact, the sky lasers F5600 Series can elevate your lighting rigs and elevate your business.
Become the center of attention
The laser light has the advantages of bright color, high brightness, long range, easy control, dazzling effect, and many patterns, which makes it look more dreamy.
It is used in theme parks, architectural landmarks, tourist attractions, large outdoor squares, bars, dance halls, theaters, commercial performances, slow shake bars, KTV rooms, etc.
Using the non-divergence of the laser beam, it can attract people from several kilometers away.
The eye of the laser has also become the focus of attention because of the point where the laser is emitted.
Landmark laser light is a type of outdoor laser light.
The iconic laser has the characteristics of high power and long range. From a distance, a strong visual impact is formed, resulting in advertising effects.
It is usually installed on top of attractions, city parks, buildings, etc. to attract people.
Because the iconic laser light is waterproof, it will also be used for major celebrations, fireworks displays, and more.
The main parameters of the landmark laser light are laser power, laser divergence angle, waterproof method, temperature protection function,etc.
Temperature control module
The iconic laser light produced by NewFeel is equipped with a temperature control module with independent intellectual property rights to ensure that it can work in the temperature range of -20 degrees to 40 degrees.
Because it can adapt to a wider range of operating temperatures, it has an advantage over traditional landmark laser light products that can only work at 0-30 degrees.
The unique SD card offline playback function can play the specified laser program at the specified time every day and conduct remote control through the network.
It can work completely independently of the computer (after uploading the program to an SD card or microcontroller). It will stick to its post every day and do what it needs to do.
New photoelectric outdoor landmark laser light, focusing on outdoor waterproof and automatic control.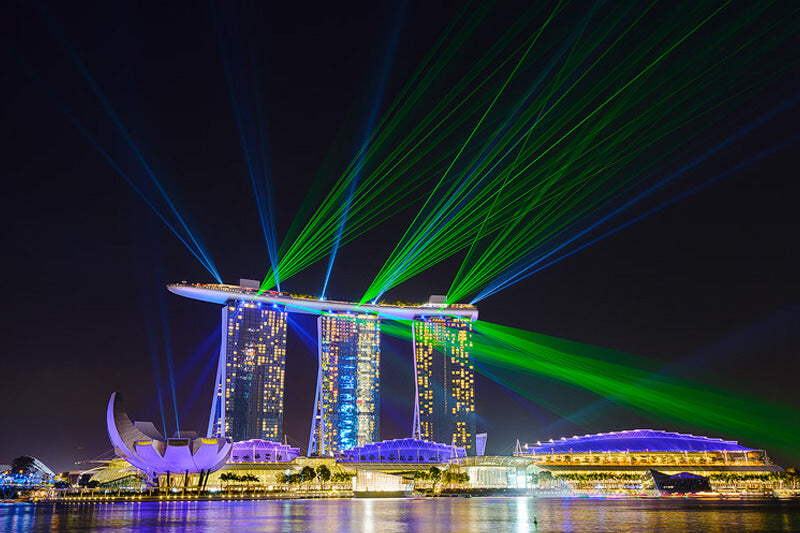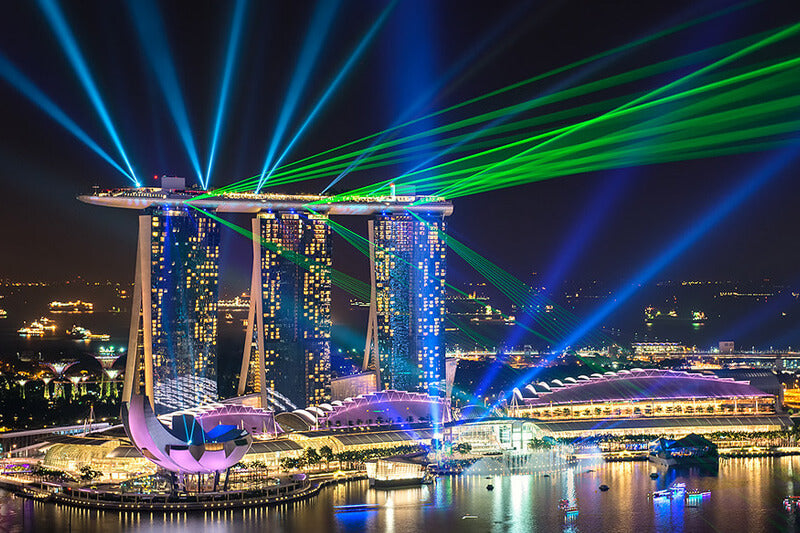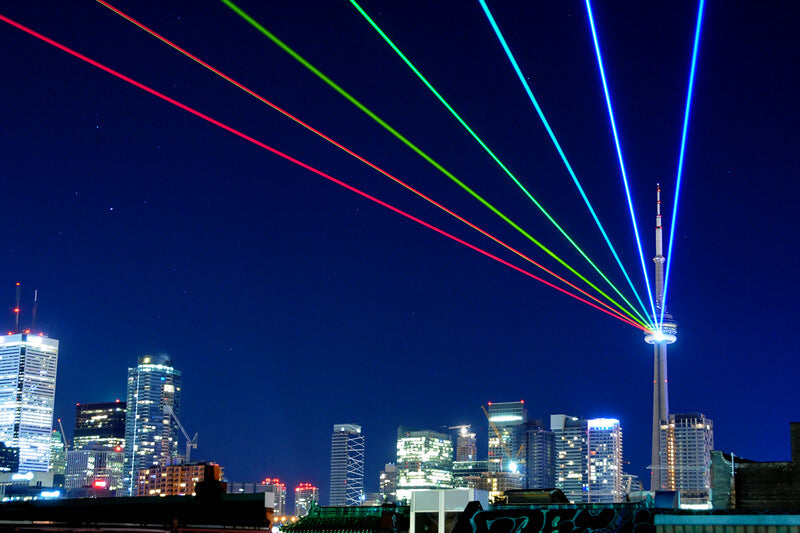 Power supply
AC110/220V, 50-60Hz±10%
Laser modulated signal
analog or TTL modulation
Beam diameter at the aperture
max 10mm
Beam divergence
max 1.3mrad
Laser wavelength
red 635 or 638±5nm, green 532 or 520±5nm, blue 450±5nm
Scanning system
25-30KPPS high speed scanning
Control mode
international standard ILDA control /DMX512 signal control /self-walk/master-slave
Control interface
international ILDA DB25 interface, international DXM512 , can connect with American pangolin laser software and tiger, pearl, MA controller,etc.
Safety function
one beam protection, no signal to close the light, etc
Suitable places
land mark bulding, theme park,dacing hall, club, big show and other enterntainment venues
Working environment
outdoor /indoor (-30~40 degrees)
Can I use the Dmx controller to make the F5600 laser show 3d patterns?
On the device itself or on the DMX controller.
How to set the F5600 laser show machines to slave mode?
The mode button on the back.
Does the F5600 sky lasers have an SD card slot to insert ilda files? Does the device also come with an SD card to change the mode on the computer?
You can choose different items when purchasing: normal configuration/with SD card/with FB4.
What material is the F5600 sky laser stage light product case?
It is a metal case with a metal bracket.
Would Newfeel F5600 sky laser RGB stage light be for an outdoor party?
Does the F5600 laser show projector stage light rental have an SD card slot to insert ilda files? Does the device also come with an SD card to change the mode on the computer?
You can choose different items when purchasing: normal configuration/with SD card/with FB4.