Blogs
How to choose a cost-effective stage laser lighting manufacturer
by Newfeel Ho on Mar 07, 2022
Laserword lighting, Kvant lighting, ... These well-known first-line brand stage Lasers lighting manufacturers all know that the quality is good, but the price also discourages many people.
For more middle-level users, it is more meaningful to choose a second-tier brand stage lighting manufacturer with reliable quality and moderate price.
So, the question is how to choose a cost-effective laser projector lighting manufacturer?
1. Inquire about the history of this manufacturer, what kind of lamps it has always made, and those aspects are its strengths. For example, some manufacturers make moving head lights and beam lights from the beginning; some make small private room effect lights; some are strong in bar laser projector lights; some are conventional LED par lights; some are tri-color conference lights and traditional lighting. Different manufacturers have different advantages.
2. Investigate the scale of this stage laser projector lighting manufacturer. Manufacturers with high-cost performance often have good business and large sales. You can go to the stage laser projector lighting manufacturer to inspect the scene to see the scale, the number of people, and so on.
3. See if you have participated in the professional lighting and sound exhibition. As a leader in the industry, the professional lighting and sound exhibition is definitely going to be unveiled. You can ask the manufacturer to provide pictures of previous lighting and sound exhibitions to see the effect and popularity.
4. Check if there is any product certification and inspection report. Cost-effective, performance is always in the first place. Seeing whether the lighting manufacturer can provide a convincing third-party product certification report is also an important indicator for inspecting the product quality of the laser projector lighting manufacturer.
5. Buy one or two laser lights to try first. If the construction period is long enough and the purchase is large enough, you might as well purchase one or two to test it yourself to see how it performs.
Now I solemnly recommend a very cost-effective lasers lights and disco lights manufacturer - Guangzhou Newfeel Lighting!
Guangzhou Newfeel Lighting has more than ten years of experience in the production of stage lasers lights. The production and research and development of lasers lights have been started since 2008. The product accessories we use are of high quality, and imported high-efficiency motherboard chips make the combined light effect of the lasers lights better. It has a long service life and is one of the most professional, cost-effective, and largest-selling laser lamp manufacturers for second-tier brands.
If you want stage laser lights, if you think the first-tier brands are too expensive, please come to us!
We have been working hard to provide customers with the most cost-effective stage lighting!
Our products include:
Newfeel is a full-service manufacturer integrating professional stage lasers lights product development, production, sales, stage design, and installation and commissioning. It solves customers' worries with high-quality products and a professional after-sales service system! The products cover the design and installation of entertainment bars, KTV, high-end large-scale wedding banquet hotels, multi-functional halls of government and enterprises, radio and television stations, outdoor large-scale performing arts activities, and outdoor lighting projects, and the coverage is very wide.
Our factory covers an area of 3,000 square meters and has three floors. The colleagues in all departments have gradually grown from 5 people at the beginning to more than 60 people. You are welcome to visit our factory. There is a large exhibition hall where you can experience our laser. The lights give the audience a technology-like impact.
Since 2008, Newfeel has participated in the Canton Fair twice a year. If you have been to our wide-angle lighting and sound exhibition, you must have seen our lighting and laser effects.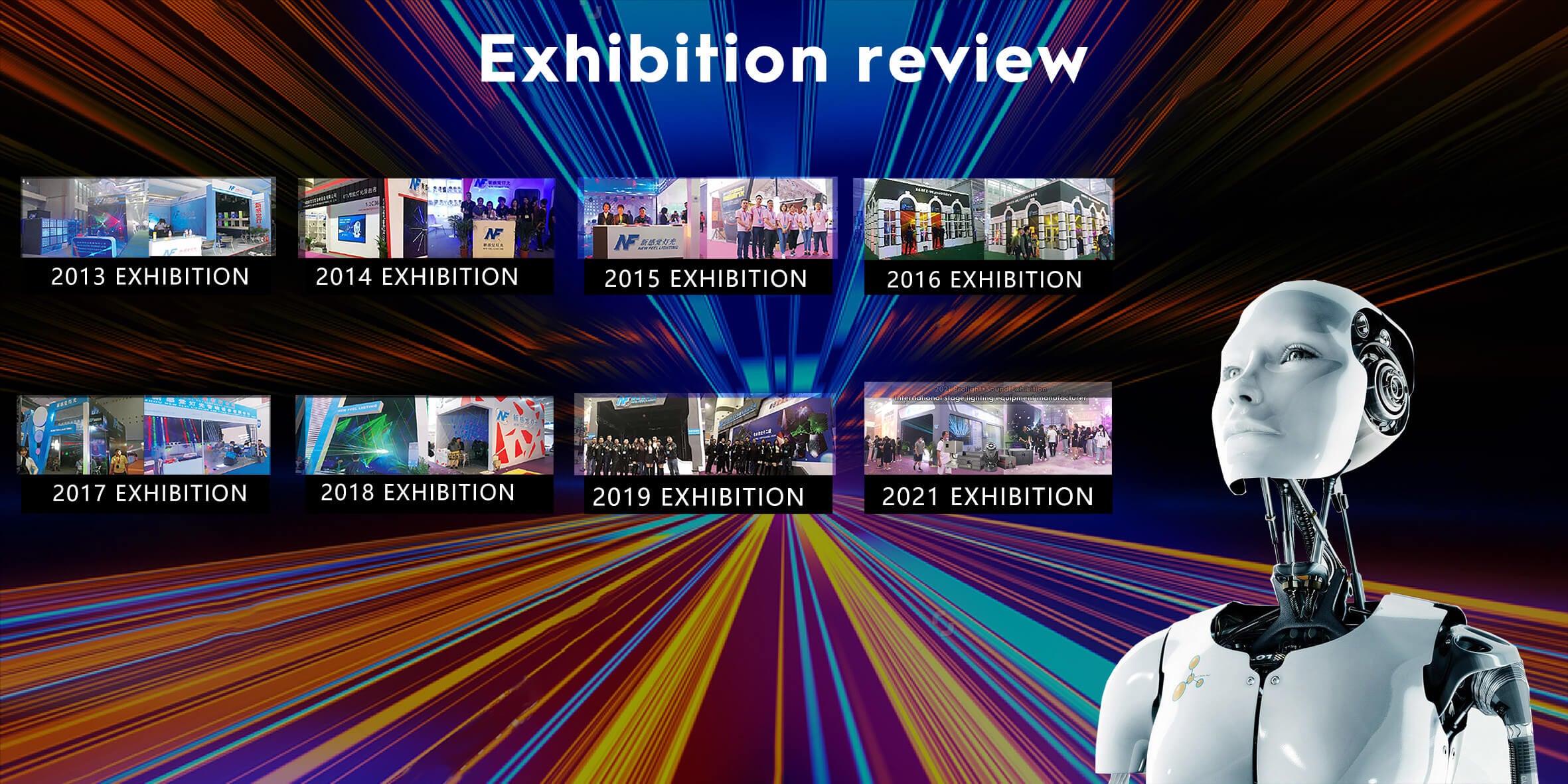 Newfeel strictly controls the quality, has passed CE certification, CC certificate, and the whole network integrity pass strength manufacturer certification, strictly implements ISO9001 production and construction products can be unimpeded in the global market. We have always adhered to the line of high-quality raw materials, insisted on imported brand accessories, independent mold opening, skilled assembly workers on assembly lines, professional light adjusters, and strict quality inspection personnel to create first-class quality stage laser lamps.
We Newfeel can accept customized services, even if you only buy one lamp as a sample first, we will be very happy to tailor the laser lamp for your needs.
Newfeel lasers for sale are not just products, but a multi-dimensional service. Committed to helping customers solve problems encountered in the lighting industry, providing professional product supporting services, engineering ordering services, guidance installation services, regular maintenance services, new product development services, telephone technical guidance services, etc. All encountered or may encounter problems, Newfeel will help customers find solutions. Customer satisfaction is our greatest satisfaction.